Americas favorite apple. It's a five star snacking apple. Mild-flavored, sweet and juicy Red Delicious has deep ruby skin and a classic heart shape.
Flavor & Texture
Sweet crisp
Pie
Fair
Sauce
Fair
Baking
Not recommended
Freezing
Fair
Season
Year-round

Golden Delicious
Its firm, white flesh retains its shape and rich, mellow flavor when baked or cooked, making it the preferred "all purpose" cooking apple. Skin so tender and thin that it doesn't require peeling for most recipes.
Flavor & Texture
Sweet tender
Pie
Excellent
Sauce
Very good
Baking
Very good
Freezing
Very good
Season
Year-round

Granny Smith
Mouthwatering tartness. Bright green Granny with a pink blush has a crisp bite and a tangy flavor. Its tartness really comes through when baked and sautéed. Enjoy Granny Smiths out of hand or in a salad.
Flavor & Texture
Tart crisp
Pie
Very good
Sauce
Very good
Baking
Very good
Freezing
Very good
Season
Year-round

Gala
Heart-shaped, distinctive yellow-orange skin with red striping. A crisp, sweet taste that can't be beat. Gala is the perfect take-along snack - any time of day. Great in salads.
Flavor & TextureSweet crisp
Pie
Good
Sauce
Very good
Baking
Good
Freezing
Still in testing
Season
Aug-Mar.

Fuji
Like fine wine, its flavor improves with age. Fuji's spicy, crisp sweetness makes it excellent out of hand or as applesauce. Fuji varies from yellow-green with red highlights to very red.
Flavor & Texture
Sweet-spicy, crisp
Pie
Good
Sauce
Good
Baking
Good
Freezing
Still in testing
Season
Year-round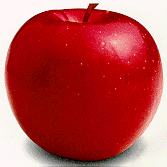 Rome Beauty
Baker's buddy. Smooth, blazingly bright red skin with sweet, slightly juicy flesh. Primarily cooking apples, their flavor grows richer when they're baked or sautéed.
Flavor & Texture
Slightly tart firm
Pie
Very good
Sauce
Very good
Baking
Excellent
Freezing
Very good
Season
Sept-July

Jonagold
A blend of Jonathan and Golden Delicious apples, offering a unique tangy-sweet flavor. With a yellow-green base and a blush stripe, Jonagold is excellent both for eating fresh and for cooking.
Flavor & Texture
Sweet-tart crisp
Pie
Very good
Sauce
Good
Baking
Very good
Freezing
Still in testing
Season
Sept-April

Braeburn
High impact flavor. The crisp, aromatic Braeburn blends sweetness and tartness just right for snacks and salads. Its color varies from greenish-gold with red sections to nearly solid red.
Flavor & Texture
Very firm
Pie
Good
Sauce
Good
Baking
Good
Freezing
Good
Season
Oct-July.

Criterion
The juicy honey-sweet Criterion is the healthiest way to satisfy a sweet tooth. Bold yellow often with a red blush. The flesh resists browning after cutting. making the Criterion an excellent choice for salads and fruit trays.
Flavor & Texture
Sweet crisp
Pie
Very good
Sauce
Very good
Baking
Good
Freezing
Still in testing
Season
Oct-Mar.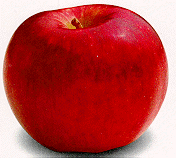 Winesap
The apple with old-fashioned flavor. The Winesap has a spicy, tart, almost wine-like flavor that makes it the cider maker's first choice. Violet red in color, it's great as a snack and in salads.
Flavor & Texture
Slightly tart, spicy,firm
Pie
Good
Sauce
Good
Baking
Good
Freezing
Very good
Season
Oct-Aug

Pippin
The greenest we've got, often with yellow highlights. Its aromatic, wonderfully tangy flesh makes the Newtown an excellent choice for pies and applesauce.
Flavor & Texture
Slightly tart firm
Pie
Excellent
Sauce
Excellent
Baking
Very good
Freezing
Good
Season
Sept-June.

Elstar
The Elstar, bright red and yellow, has a lively flavor that's sweet, yet tangy. The Elstar retains its flavor, so it's perfect in fruit trays, for snacking and also makes great applesauce.
Flavor & Texture
Tart-sweet, firm
Pie
Good
Sauce
Excellent
Baking
Very good
Freezing
Still in testing
Season
Sept-mar.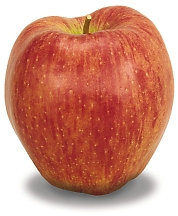 Cameo
Pleasantly sweet flavor and firm texture. Color is red stripe over a creamy background. Excellent dessert apple.
Flavor & Texture
Tart-sweet, firm
Pie
Excellent
Sauce
Excellent
Baking
Not Recommended
Freezing
Very good
Season
Agust-Octb.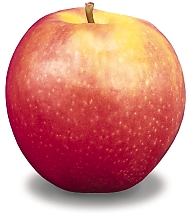 Pinklady
Sweet-tart taste. Dlesh is firm and crisp. Skin is pink blush over yellow. Good for eating out of hand and cooking.
Flavor & Texture
Tart-sweet
Pie
Nor recommended
Sauce
Excellent
Baking
Not Recommended
Freezing
Not recommended
Season
N/A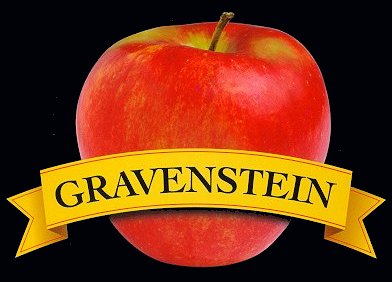 Gravenstein
No Fat, Cholesterol Free, Excellent source of Fiber Old-Fashioned, Tart-Sweet Flavor A Favorite for Baking
Flavor & Texture
Tart-sweet
Pie
Excellent
Sauce
Excellent
Baking
Excellent
Freezing
Not recommended
Season
Aug-Octob.

Macintosh
Excellent for every use. Has a distinctive aroma, and delicious "tangy" flavour. Pulp is firm and crisp. Cooks soft and smooth. Reasonably good keeper. Usually available: September through May.

Spartan
Spartan A cross between McIntosh and Newtown apples. An excellent all-purpose apple with crisp, snowy-white flesh and an unusually small core. The Spartan has a distinctive, sweet flavour and cooks soft and smooth. Usually available: October through July.

Newton
Unsurpassed for every use. Rich, tangy, tart characteristic flavour. Pulp is hard and crisp. Cooks firm. Very good keepers, and excellent for fresh eating and cooking. Usually available: November through April.

Sunrise
Great for out-of-hand eating. Very crisp and juicy. Appearance is very bright and an attractive red colour. Excellent for desserts. The Sunrise is equivalent in size to Golden Delicious and matures about 3 weeks before McIntosh. Available from early August right through the fall season.

Empire
This cross between McIntosh and Delicious is a fine dessert apple. The Empire is round, medium sized and has a dark red colour. Its flesh is creamy in colour with a slightly tart taste. Available later September to late February.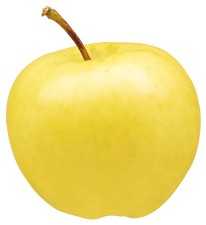 Ginger Gold
Ginger Gold was discovered as a chance seedling in an orchard in Virginia. It is similar to the Golden Delicious in appearance and taste, but becomes ready for harvest about six weeks earlier. It exhibits all the excellent qualities of a Golden Delicious. Ginger Gold has a texture and sweetness similar to the Golden Delicious, but also mildly spicy flavor that makes it unique. Though currently planted in small numbers in Michigan, the variety's production is expected to increase quickly. It is best eaten fresh.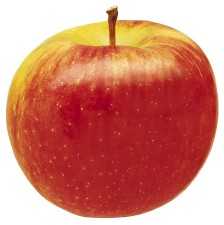 Honeycrisp
The Honeycrisp apple was produced from a 1960 cross of Macoun and Honeygold, as part of the University of Minnesota apple breeding program. The skin of a Honeycrisp is mottled red over a yellow background. The fruit has an exceptionally crisp, sweet and juicy texture. Look for bushels and bushels of Honeycrisp apples coming to your grocery store because Michigan growers have planted large numbers of this variety in their orchards.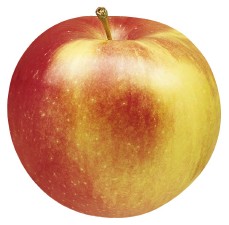 Jonamac
The Jonamac apple is a cross between a Jonathan and McIntosh. The eating quality combines the rich flavor of McIntosh with some of the spiciness of Jonathan. The texture or crispness tends to be similar to McIntosh but harder. Excellent for cooking, sauce or eating out of hand. When baking, the slices tend to be melting and juicy.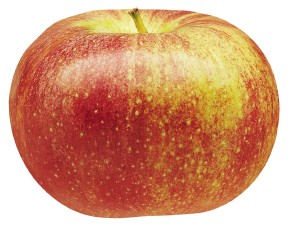 Red Cort
Redcort has many similarities to McIntosh, which is in its genes. McIntosh was crossed with Ben Davis early this century at the Geneva, New York, research station to produce a variety released in 1915 as Cortland. More recently a limb mutation of Cortland was discovered that offered redder and earlier color than the parent varieties. In flavor and texture and firmness Redcort is proving to be a highly desirable apple.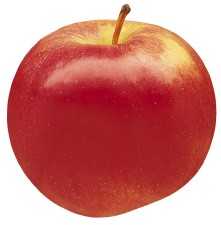 Ida Red
Jonathan passed some of its genes along to Ida Red, a cross of Jonathan with Wagener made at the Idaho Agricultural Experiment Station and released commercially in 1942. It's a bright red apple that is firm and keeps well. Besides its excellence as a fresh apple, it is widely used in sauces and pies and as a baker that can be relied on to retain its shape. Idared's flavor is tangy and tart.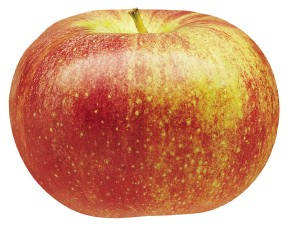 Cortland
After the many attributes of McIntosh were discovered, plant breeders began crossing it with other varieties to enhance its traits. One of the earliest was Cortland, combined with the Ben Davis variety and released early this century. Its flavor is sweet compared to McIntosh, and it has a flush of crimson against a pale yellow background sprinkled with short, dark red stripes and gray-green dots. Cortland has very white flesh and is an excellent dessert apple.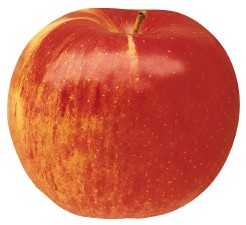 Jonthan
The initial fame of Woodstock, New York, is that it's where the Jonathan variety was discovered as a chance seedling in the 1820s. It received its name from the man who first promoted it. Michigan has proven to be an ideal home for Jonathan and is the leading producer of this dual-purpose variety suitable both for fresh eating and for processing. This crimson apple (with touches of green) has a spicy tang that blends well with other varieties in sauces and cider.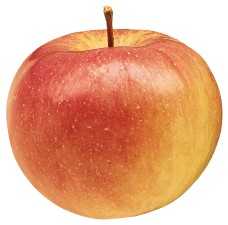 Northern Spy
Northern Spy is another venerable apple, discovered south of Rochester, New York, around the beginning of the 19th century as surviving sprouts of a seedling that had died. Wagener is believed to be one of its forebears. Northern Spy is a late-season apple with a red blush over a yellow-green skin and yellowish flesh. It holds its shape and flavor in cooking and is ideally suited in texture and taste for many processing uses, including slices and sauce. Processing is the primary utilization of Northern Spy currently, although some apple fans can't get enough of the variety for fresh eating.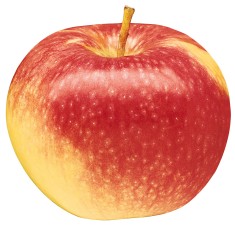 Paula Red
Nature did what plant breeders couldn't--produce a McIntosh-type apple that matures in late summer rather than fall. Paula Red is considered a McIntosh mutation, discovered around 1960 near a McIntosh block by grower Lewis Arends of Sparta, Michigan. Mr. Arends named the new variety after his wife Pauline. Paula Red has the pleasing tartness of McIntosh and a rather similar appearance with a red blush over a yellow-green background. It is well suited not only for fresh eating but for cooking. Paula Red is a short-season apple typically available through early October.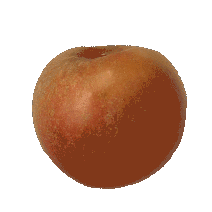 Almata
This apple look like small cherry. The Almata is the apple the folks at Tree-Mendus use to make their incredible honey-like pinkish amber apple jelly.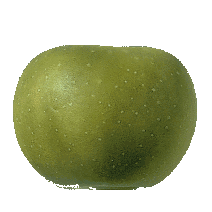 Gold Russet
Originated in New York state in 1845.
Possibly the best known American russet. Medium sized golden fruit is fine-grained, melting, juicy, rich, mildly sub-acid to sweet and aromatic. Regular cropper from moderatley vigorous upright tree. Outstanding dessert,cider and storage apple.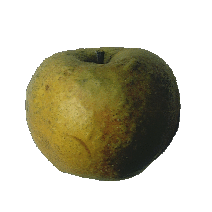 Hunt Russet
Similar to Golden Russet, this little known heirloom apple has exceptional eating qualities. Generally yellow, lightly overlaid with russet along with abronze red cheek in full sun. A long lived vigorous tree. The Hunt Russet like most russets has that acidulous pear-like flavor and is a good keeper.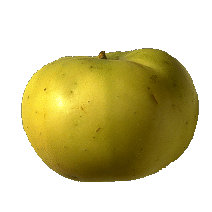 Maiden's Blush
Medium-large, lemon yellow with attractive red cheek. A very beautiful fruit. Tender, aromatic, sub-acid, white flesh is fine-grained and crisp. Exceptional drying fruit reconstitutes very well for pies and stewed fruit. Long storing apple. Excellent eating out of hand. Best by mid-December. Medium sized, open, spreading, moderately vigorous tree. Sometimes can become a biennial bearer.
BALDWIN APPLE
Found on the farm of John Ball, Wilmington, Mass., 1840.
An old favorite home and market apple in Maine. Large crimson coated fruit over green. Flesh is yellow, crisp, juicy and makes a wonderful, spicy, aromatic cider. Is an excellent dessert apple and keeps 'till March in cold storage. Large and very vigorous tree is an annual bearer when pruned properly.
BEN DAVIS APPLE
Found in Arkansas, 1880,BR> Large, conical, white-fleshed, red and dark carmine striped fruit is borne heavily and annually. The tree is a very good pollinator and is one of the parents of Cortland. Bruise resistant, exceptional keeper. Very good in a warm location in regard to ripening quality.
BLACK OXFORD APPLE
Black Oxford was found as a seedling by Nathan Haskell on the farm of one Valentine, a nailmaker and farmer of Paris in Oxford County, about 1790.
This outstanding apple is a beautiful, mid-sized round fruit, deep purple with a blackish bloom. Excellent eating and cooking, superb cider. Rich and spicy flesh improves in storage, reaching perfection by late December to March. Slow growing trees are insect and disease resistant.
BLUE PEARMAN APPLE
Found in New Engalnd in 1833.
Medium to very large purplish-red fruit with bluish, waxy bloom. Yellowish flesh is mild, sub-acid, rich and aromatic. Large spreading tree is very hardy and long lived. Good for dessert and cider. Storage quality maintains from October to February.
DUCHES OF OLDENBURG APPLE
Foun in Russia in 1800's.
Juicy, rich, sub-acid flesh. Excellent for pies, sauce and cider. Medium large yellow fruit striped with dull purple and bright red. Long lived trees are extremely hardy. Bears heavily even in bad years and pollinates well. Still grown all over former USSR, Northern Europe and especially valued in Sweden.
DUDLEY APPLE
Foun in Maine - Dudley originated as a seedling of Duchess of Oldenburg, planted about 1877 on the farm of J.W. Dudley at Castle Hill in Aroostook County. Large, greenish-yellow fruit with red overlay. Flesh is firm, tender, very juicy, and briskly sub-acid. Excellent for sauce and baking, reasonable keeper. Small tree is very hardy and early bearing.
FAMEUSE APPLE
Found in France, 1600's and then in Canada, 1739.
The probable parent of the Macintosh though less prone to scab than Macs. Also called Snow. Medium size, deep crimson fruit with very tender, juicy, mildly sub-acid, very white flesh. Flavorful and aromatic fruit stores well 'till December or later and excels as a dessert, cider and culinary apple. Very hardy, long lived healthy tree.
GRIMES GOLDEN APPLE
Discovered on the farm of Thomas Grimes, Wellsburg, West Virginia, 1804.
Medium to large, bright golden yellow fruit. Crisp, fine-grained, yellow flesh. Aromatic and spicy flavor. Superior desert quality and excellent for juice and cider. Keeps until January. A good pollinator.
KING APPLE
Many old New England orchardists considered this choice apple for dessert, cider and storage. Fruits are uniformly large and flattened round, yellow background overlaid heavily with a dark red striping. Crisp white-yellow flesh with a fine blend of sugars and acids which produce an excellent cider. Fruit is not prone to scab.
STRAWBERRY APPLE
found in northern Pennsylvania. Yellow coloured apple with a slight pink blush... shaped like a strawberry. Soft flesh with a slightly sweet flavour.
RHODE ISLAND GREENING APPLE
Found in Rhode Island year 1650. Rhode Island Greening was one of the first named varieties grown in Maine, being brought, about 1788, to Winthrop from the Old Colony in Massachusetts.
Perhaps bet known of the early American apples. Medium large green waxy fruit, covering a firm, crisp, rich, juicy sub-acid flesh. Excellent cooking apple and quite good for desert and jelly. Stores very well. Long lived tree. Tends to be an abundant biennial bearing tree and responds well to pruning.
WINTER RED FLESH APPLE
Fruit is red fleshed, as is the wood of this beautiful crab apple tree. Excellent for sauce and jelly. Stunning ornamental purple flowers with bronze-colored leaves.
WOLF RIVER APPLE
Found Near Wolf River, Wisconsin in 1881.
Fruit is very large, bright red and rosy crimson color. White coarse flesh is moderatley juicy and pleasantly sub-acid. This annual bearing tree is good for pies and excels as a drying and sauce apple. Resistant to scab and mildew. Tree is very hardy, and a vigorous grower.
DOLGO CRAB APPLE
Found in South Dakota year 1897. Beautiful, vigorous, flowering crab with dense, willowy branches, and reddish-green foliage. Makes excellent jelly. Crimson fruit about 1 1/2" in diameter is rich in pectin. Resistant to scab, cedar rust, mildew and fire blight.